The National Capital Region Planning Board (NCRPB), constituted in 1985 under the provisions of NCRPB Act, 1985, is a statutory body functioning under the Ministry of Urban Development, Government of India. NCRPB has a mandate to systematically develop the National Capital Region (NCR) of India. Lying between 27o03'-29o29' North latitude and 76o07'-78o29' East longitude, the NCR spreads over an area of 33,578 sq. km. The constituent areas of the National Capital Region are:
National Capital Territory Delhi (constitutes 4.4 percent of NCR area);
Haryana Sub-region – Faridabad, Gurgaon, Rohtak, Sonepat, Rewari, Jhajjar, Mewat and Panipat districts of Haryana (40.0 percent of NCR area);
Rajasthan Sub-region – Alwar district of Rajasthan (23.3 percent of NCR area);
Uttar Pradesh Sub-region – Meerut, Ghaziabad, Gautam Buddha Nagar, Bulandshahr and Baghpat districts of UP (32.3 percent of NCR area)
Counter Magnet Areas.
In addition to the NCR, the NCRPB has also selected, in consultation with the respective state governments, following Counter Magnet Areas (CMA), considering their location, population and potential growth for implementing development programs, in order to achieve the objectives of the regional plan: (i) Gwalior (Madhya Pradesh State); (ii) Patiala (Punjab); (iii) Hissar (Haryana); (iv) Kota (Rajasthan); and (v) Bareilly (Uttar Pradesh).

Area and Population.
According to Census 2001, the total population of NCR is 37.1 million, housing in a total area of 33,578 sq. km, with an average gross density of 1,104 persons per sq. km.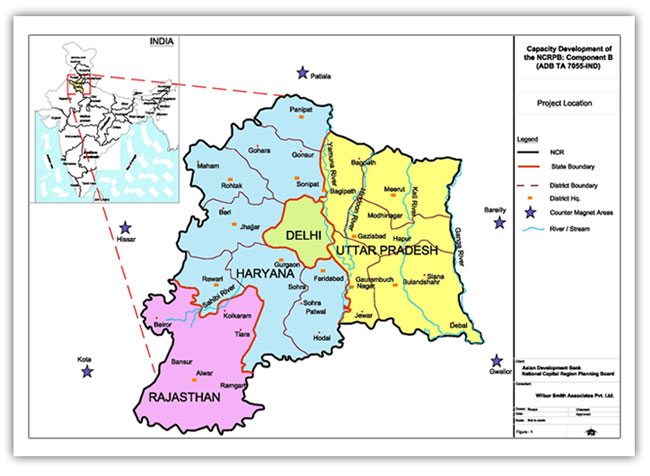 Table 1: Area and Population of NCR Constituents
| | | | | |
| --- | --- | --- | --- | --- |
| Sub-region | Area | | Population (2001) | |
| | Sq. km | % | No,s | % |
| NCT | 1,483 | 4.42 | 13,850,507 | 37.33 |
| Haryana | 13,413 | 39.95 | 8,687,050 | 23.42 |
| Rajasthan | 7,829 | 23.32 | 2,992,592 | 8.07 |
| Uttar Pradesh | 10,853 | 32.32 | 11,570,117 | 31.19 |
| Total | 33,578 | 100.00 | 37,100,266 | 100.00 |
Source: Regional Plan 2021 NCT – National Capital Territory

NCRPB Act, 1985 stipulates various functions of the Board as under:

Preparation of the Regional Plan and Functional Plans;
Arrange for the preparation of Sub-regional Plans and Project Plans by each of the participating States and National Capital Territory (NCT);

Coordinate enforcement and implementation of the Regional Plan, Functional Plans, Sub-regional Plans, and Project Plans through the participating states and NCT;

Ensure proper and systematic programming by the participating states and the NCT in project formulation, determination of priorities in NCR or Sub-regions and phasing of the development of NCR in accordance with the stages indicated in regional plan; and,

Arrange and oversee the financing of selected development project in the NCR through Central and State Plan funds and other sources of revenue.

NCRPB has prepared regional plan for NCR area with the perspective year 2021. Further, the Board also initiated preparation of functional plans to elaborate one or more elements of the Regional Plan. Accordingly the study groups have been constituted for preparation of functional plans of drainage and power. Consultancy services have been awarded for water and transportation which would assist in preparation of functional plan for these sectors 

The NCRPB Act also defines the roles of State Governments/State NCR Cell, which includes the following:
Preparation of the Sub-regional Plan and Master Plans;
Ensure/coordinate preparation of District Plans as per the provisions of Regional Plan;
Ensure preparation of Mater Plans for water, sewerage, solid waste management and drainage for all the towns in the sub-regions;
Project Planning and Monitoring of NCRPB funded projects;
Ensure implementation of Regional Plan policies and proposals;
Ensure preparation of Sub-component plans for various sectors
Ensure preparation and implementation of Rural Development Plans;
Creation of database, creation of Policy and Planning Group etc.

As stated above, each participating State is required to prepare a sub-regional plan for the sub-region within the state. On request of Rajasthan and Haryana states the Project Sanctioning & Monitoring Group (PSMG) has allowed these states to outsource preparation of sub regional plan.  

The role of state departments, ULBs and agencies, which are primarily responsible for provision of basic services, include:
To get the District Plans prepared in consonance with the Regional Plan and Sub-regional Plans;
To ensure preparation of Master Plans for all towns
Prepare Master Plans for water supply, sewerage and solid waste management at town level;
To prepare projects and proposals and implement the same.
Project Financing by NCRPB
As defined by the NCRPB Act, one of the functions of the Board is to arrange and oversee the financing of selected development projects in the NCR through Central and State Plan funds and other sources of revenue. For this purpose NCRPB Fund has been created. Board may finance development projects implemented in national capital region (NCR) and counter magnet areas (CMAs), which are identified by Board, participating state governments and their implementing agencies including Urban Local Bodies (ULBs), Development Authorities (DAs), Housing Boards, Industrial Development Corporations or other agencies of the State governments. NCRPB gives significant emphasis for building water supply and sanitation infrastructure. The Board provides loan for a project up to 75 percent of the estimated cost and the balance needs to be contributed by the State Government and their Implementing Agency.

Depending on the availability of resources, the following types of projects are considered for financing by the Board:
Land acquisition and development for social and physical infrastructure projects for industrial, institutional, residential and commercial uses;
Upgrading and augmentation of existing infrastructure like water supply, sewerage, sewage disposal, drainage, solid waste management, power supply, expressways, railways, regional/sub-regional/master plan  roads & bridges, milk dairies, fire services, parks & playgrounds, stadiums, etc;
Development of art & cultural centers having facilities like theatres, auditorium, conference/exhibition halls, handicraft/haat bazaars, etc;
Infrastructure and other development projects in the Counter Magnet Areas;
Pilot projects on rural development;
Development of new townships; and
Such other projects with the approval of the Project Sanctioning and Monitoring Groups which are in conformity with the objectives of the Regional Plan