National Capital Region (NCR) is a unique example of inter-state regional planning and development with NCT-Delhi as its core. The National Capital Region as notified covers the territorial jurisdictions of National Capital Territory of Delhi, Haryana, Uttar Pradesh, and Rajasthan. Sub-region wise area details of NCR are as under:
| | |
| --- | --- |
| Sub-Region | Name of the Districts |
| Haryana | Faridabad, Gurgaon, Mewat, Rohtak, Sonepat, Rewari, Jhajjhar, Panipat, Palwal, Bhiwani, Mahendragarh, Jind and Karnal (thirteen districts). |
| Uttar Pradesh | Meerut, Ghaziabad, Gautam Budha Nagar, Bulandshahr, Hapur, Baghpat and Muzaffarnagar (seven districts). |
| Rajasthan | Alwar and Bharatpur (two districts). |
| Delhi | Entire NCT-Delhi. |
Note: Regional Plan-2021 for NCR, notified in 2005, covers the then notified area of National Capital Region which was 33,578 sq kms.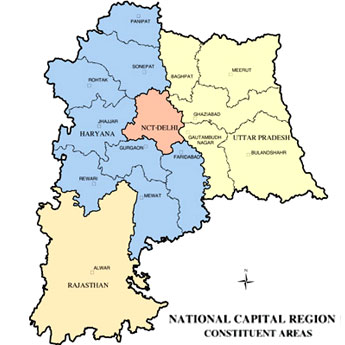 Note: Updated Map of Constituent Areas of NCR is yet to be prepared. The Map above is as per the Regional Plan-2021 for NCR.
Counter Magnet Areas :
The NCR Planning Board Act, 1985, under Section 8 (f), empowers the Board to select any area outside the NCR having regard to its location, population and potential for growth as a 'Counter Magnet Area' in consultation with the State Government concerned with a view to achieving the objectives of the Regional Plan.
At present the NCR Planning Board has identified the following nine counter magnet areas to NCR:
Hissar and Ambala in Haryana
Bareilly and Kanpur in Uttar Pradesh
Kota and Jaipur in Rajasthan
Patiala in Punjab
Gwalior in Madhya Pradesh
Dehradun in Uttrakhand
Note: Board also decided that these Counter-Magnet Areas shall be an area of about 120 kms radius around above identified towns as zone of influence for migration. The concerned State Governments shall notify their respective Counter Magnet Areas proposed to be developed in & around these towns and prepare Development Plan and Plan of Action for its implementation.
A map of the Counter Magnet Areas is as follows: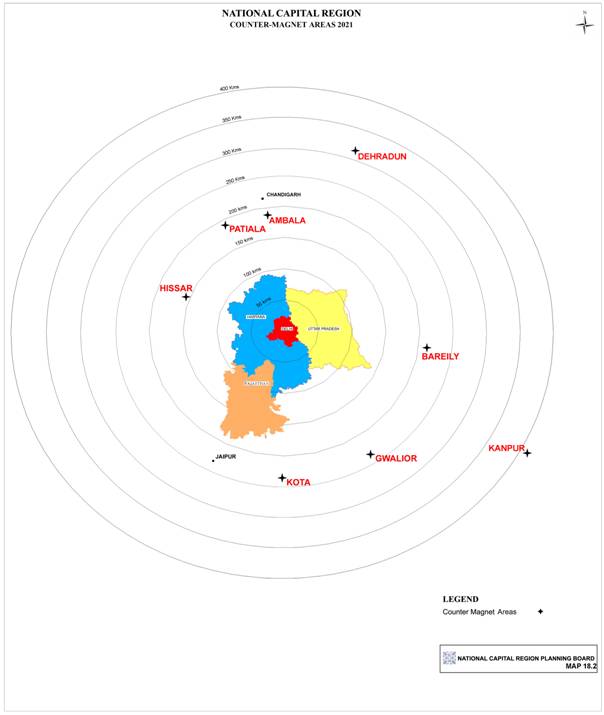 Note: Updated Map of Constituent Areas of NCR is yet to be prepared.